EZPost ERA Autoposter for Lytec and LytecMD
Automatically Post your Electronic Remittance Advice files with
Confidence the EZ Way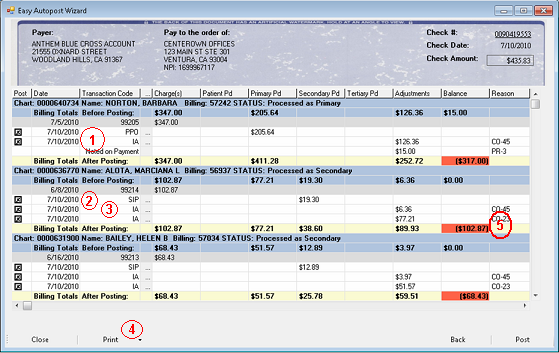 Instantly see at a glance your current billing balances. Know BEFORE you post how that posting is going to affect your Lytec bills.

Print a full CMS style EOB, or a full color detailed report of this ERA file.

Choose which items will post as adjustments, which will post as notes only and which will not post at all!

Intuitive use of color lets you know at a glance if there is a potential problem. Anticipated balances after posting are highlighted red when negative, yellow when a balance remains, and green if the billing balance after posting is zero.

Post ERA claim adjustment reason codes as a note to the CHARGE, a note to the PAYMENT, or as a separate line item using adjustment charge codes
The EZPost Difference
WRITTEN FOR LYTEC BY LYTEC EXPERTS –PSS has been supporting Lytec and writing programs for Lytec users for over 19 years.
FAMILIAR LYTEC LOOK AND FEEL –the initial ERA screen is a meld between the Lytec Apply Insurance Payment screen and what is needed for accurate ERA auto-posting
CHOOSE DEFAULT POSTING CODES -Specify which codes to use for payments, notes and adjustments. Those codes automatically come up the next time you select that practice
AUTOMATIC PRACTICE SELECTION – Seamlessly identifies the correct practice the check goes to, but gives you the option to select from other practices in the list
AUTOMATIC SECONDARY EOB SUBMISSION –You can now print individual EOBs for selected patients who require secondary claim submission
INDUSTRY STANDARD DATABASE –Uses existing Lytec SQL database engine REGULAR UPDATES –PSS software does not require mandatory updates, but releases updates as needed for regulatory changes, new versions of Lytec, and more.
EFFICIENT, INDEPENDENT FROM LYTEC – The small executable file can be used to access multiple practices quickly and efficiently
EASY TO INSTALL, EASIER TO USE – Comes pre-installed with claim adjustment reason codes and most common answers for how to handle adjustments. Works right out of the box with little to no configuration!
SEE IT IN ACTION
DOWNLOAD A DEMO NOW