INTEGRATED SERVICES
Fully Integrated Delivery & Payment Services
You'll have all the tools you need to send bills & get paid in all the ways you and your payers want. Integrated Delivery & Payment Services eliminates traditional headaches which occur when users are forced to try and work with individual services from different vendors.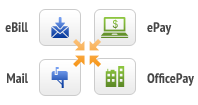 INTEGRATION WITH BILLING APPLICATION
Varying Levels of Integration into your Billing Application
Each level of Billing App integration further reduces the steps for you to complete your work. Many practice management systems offer integration, if you use a different Practice Management software, call us to discuss what level of integration is offered with your specific billing software.
Convenient Access to Services
You can access all BillFlash Services through either BillFlash.com or through your local billing application. Your BillFlash Reseller will show you which method you will use depending on the level of integration with your billing application.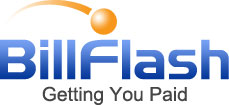 PAYER WEBSITE
Convenient Payer Access to eBill & ePay Services Your Payers can find their eBills and make ePays through MyProviderLink.com.
You can customize your branding and messaging on the site.
Your Payers can see current balances which reflect any payments received by you through either OfficePay or ePay.
Your Payers can add messages TO you on their payments. They can also see messages FROM you on each payment.