Meet the new Lytec 2022!
What does the latest and greatest version of Lytec have in store for us? Ask no further! Here are the features they added for us this year!
Monitor Practice Performance with a New Financial KPI Dashboard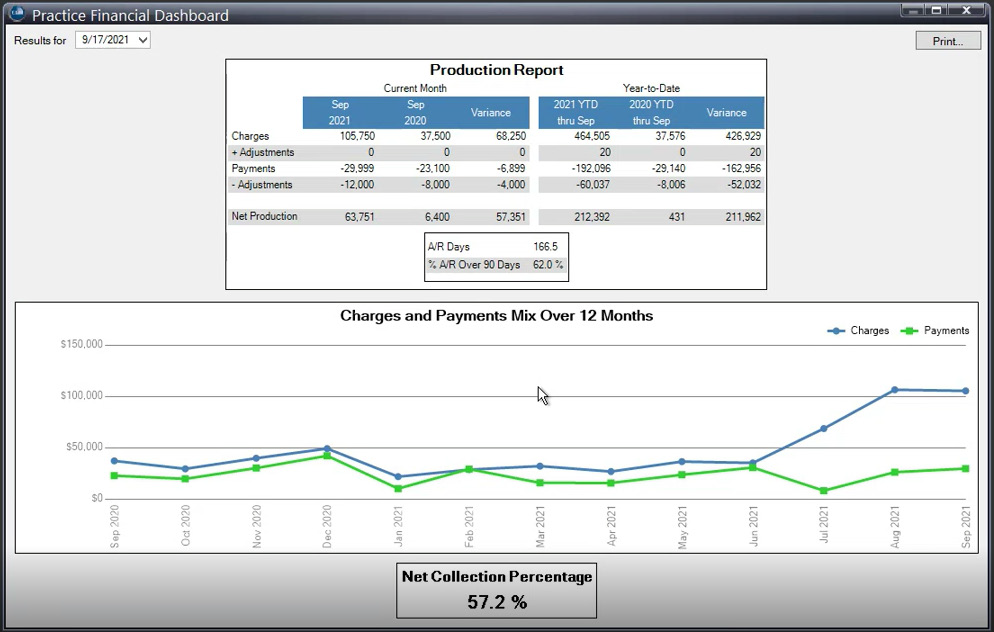 The Practice Financial Dashboard in CGM LYTEC 2022 is an executive summary of your key financial performance metrics. This report details your charges, adjustments, and payments for the selected month and year and compares it to the prior month and year. By closely monitoring this dashboard, you can keep your finger on the pulse of your practice, quickly diagnosis problems, and create a care plan to keep your practice's financial health on track.
Analyze Visit Data with New Patient Encounters KPI Dashboard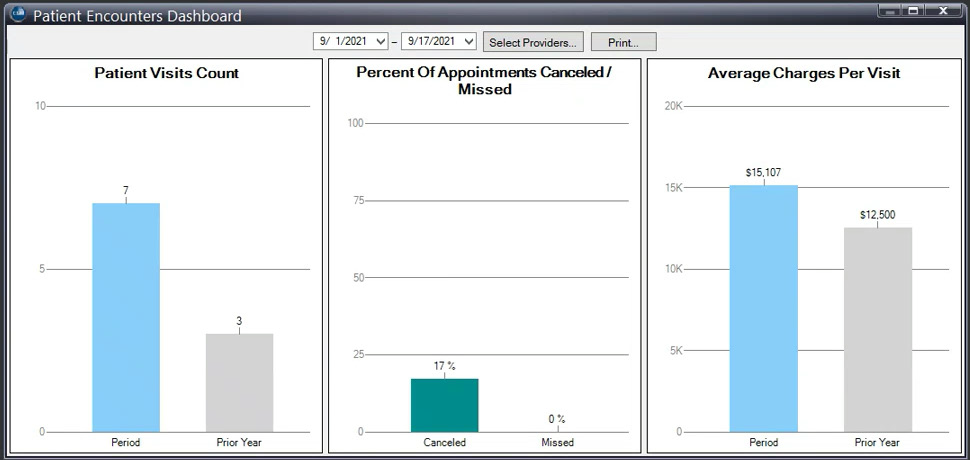 The new Patient Encounters Dashboard in CGM LYTEC 2022 provides year-over-year comparisons for critical patient
data. Use this dashboard to determine if your patient visit count is growing or shrinking. Identify your patient
no show rate and compare it to the previous year. See the impact on your revenue cycle with a year-over-year
comparison of average charges per visit. This valuable data helps you understand patient dynamics and how it is
impacting the overall financial health of your practice.
Reporting for Payments Matching Date of Service
You've asked and we answered. CGM LYTEC 2022 now has a new report that matches payments with the Date of Service (DOS). Get a more complete view of your practice financials by viewing all payments, regardless of when they were received, for charges on a particular date or date range.
Stay Compliant with 21st Century Cures Act Reporting & Demographic Requirements
It might not be the most exciting enhancement, but it is an important one. CGM LYTEC 2022 has been updated to include the latest 21st Century Cures Act requirements. The Cures Act includes provisions to promote health information interoperability, patient access to their records, and to prohibit information blocking. Physicians are required to respond to any legitimate request to exchange or provide access to electronic health information (EHI)
stored in their health records. Requests can come from a patient, another provider, a health plan seeking information for clinical purposes, or a public health agency. With this new enhancement in LYTEC 2022, practices can print an individual patient record with all the mandatory demographic requirements protecting your practice from information blocking infractions.
New Workflow to Prevent Printing and Export of Inactive Items and Patients
A productivity improvement that will save you time and resources. The prevent printing and export features allows
you to remove any inactive items or patients from lists prior to printing or exporting them, providing a cleaner view
that is faster and easier to use.
Enhance Practice Security with New Password Requirements
Passwords provide the first line of defense against unauthorized access to your practice's computers and patient's
personal health information. The stronger your passwords, the more protected your system will be from hackers and
malicious software.
In CGM LYTEC 2022, we have amped up your password security with a mix of alphanumeric characters plus upper and
lower-case letters.
The following features were added in 2021!
Let's face it, the last couple of years have been quite interesting in the medical industry as a whole and not many of you upgraded to Lytec 2021. Remember than when you upgrade to the latest version of Lytec, you also get all the features that were added in the interim! CGM has stayed busy making changes to your Lytec system every year!
OCR Scanning is the Most Important Scanning Feature You Never Knew You Needed*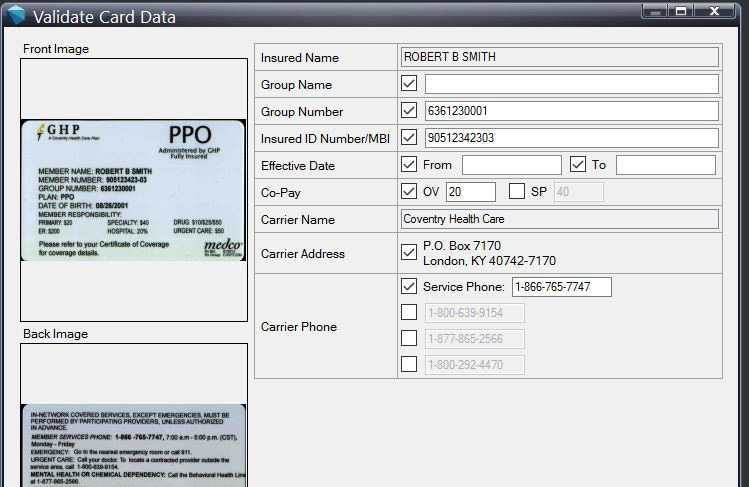 Optical Character Recognition or OCR works with your scanning functionality in Lytec 2022 to convert printed characters such as policy numbers, some demographic data, and copays into digital text in your software. You can scrape data from previously saved images or from new scans. Verify the scanned data, select the information you want to save to your Patient's Insurance tab, and click OK. It's that simple!
The new insurance data will appear automatically in the patient insurance record. The scanned data will be listed at the top of the insurance tab assisting you to select the correct insurance code or deciding whether you need to add a new insurance. Creating a new insurance will be automatically populated with data from the OCR card scan. Scanned data can be saved to the primary, secondary, or tertiary insurance tabs.
Eliminate mistakes, save time, and increase the accuracy of your patient insurance information with OCR scanning in Lytec 2022. It's the most important feature you never knew you needed.
Demographic Information Can Be Requested on Real-time Eligibility Checks
Lytec 2020 introduced enhanced eligibility displays to help keep your practice revenue flowing. Lytec 2022 takes it to the next level with some additional patient demographic information being returned with a real-time eligibility request. No more reading messy handwriting or inputting incorrect data that can lead to denials. Now you can verify that you have accurate patient insurance information including coverage, co-pays, coinsurance, and various patient demographics.
Fewer Clicks for Real-Time Eligibility Checks
Time is precious. That's why we made improvements to our real-time eligibility checks. Enhanced intelligence means the system knows when to skip prompts that don't apply resulting in a faster workflow.
Bill with More Accuracy! You can Accept Additional Diagnosis Codes in Pending Transactions
In Lytec 2022, you can now accept additional diagnosis codes from Practice Partner on the Pending Transactions screen. Previously, if you had more than 4 diagnosis codes, only 4 would be accepted. Bill with more accuracy
and ensure you are collecting all the revenue you are due.
Charges & Payments Screen Gets Multiple
Workflow Improvements
In Lytec 2022 we added new capabilities to streamline your workflow. Now you can add AR Tracker Notes directly from the Charges and Payments screen. Don't interrupt your workflow by leaving one screen for another. Now you can do it right inline – streamlining workflow and speeding your processes.
Another improvement is the ability to assign, reassign, or remove an AR Tracker agents, tasks or due dates right from the screen. Better yet, you can make these changes for both the patient and insurance balances. It's like opening AR Tracker without actually opening it!
Custom Color Coding For Quick Identification of Patients in Lookup Grids
Have you ever wished for a quick way to identify patients with no insurance, or those with overdue balances? Wish granted. With new custom color-coding tag abilities in Find Patient lookup grids, you can quickly identify patients with certain characteristics. Create your color tags and descriptions, assign a patient the appropriate tag, and you are set. Now when you display a Find Patient lookup
Address Data Storage Limit Concerns with SQL Server FileStream
Do you want to scan more insurance cards and other images, but you're running into SQL Server database size limits? In Lytec 2022 the new FileStream capabilities allow your image data to be stored outside of the database, so they no longer count toward the database size limits.
Plus, your normal database backup will automatically include the FileStream images. That's right! SQL Server backups and restores the files as if they were part of the database.
*OCR Scanning has additional costs per scan